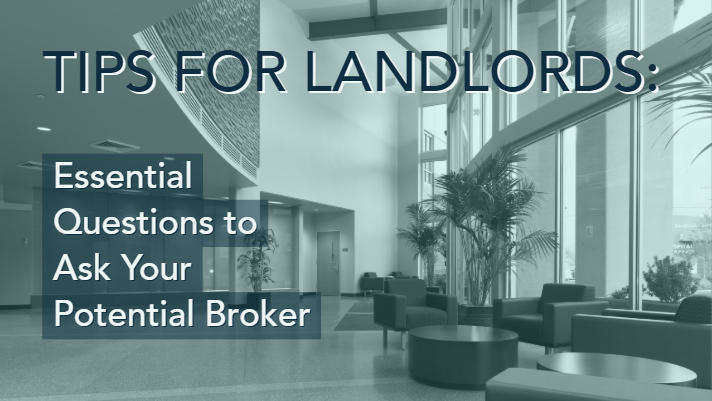 Tips for Landlords: Essential Questions to Ask Your Potential Broker
BLOG POST
03.29.2019
By Tracy Altemus, CCIM Executive VP, Healthcare Brokerage Services Agent, Arizona, Nevada & California, Ensemble Real Estate Solutions.
Do you own property with current or impending vacancy? Are you looking for assistance in leasing or selling? Finding the right broker can be a daunting task, so here are a few questions to take into consideration when contemplating your options:
1. What is their specialization and/or credentials?
There are brokers who specialize in medical office, retail, general office, multifamily, land or industrial space; not many of them crossover into multiple types (except land, possibly). Choosing a broker who specializes in your asset type affords you the most up-to-date, relevant knowledge of your competition, market rental rates, cap rates, tenant improvement allowances and concessions that are being offered in your particular submarket for your type of space.  In the Phoenix Metro area, many brokers specialize in medical office space; thus, you are better served to take advantage of that expertise.
2. What services are included and, maybe more importantly, what is excluded?
Every brokerage house offers different ways of marketing and executing your listing. It is important to understand what exactly they provide and at what cost. Here are some follow-up questions you might ask to understand the full scope of services being offered:
How do they market their listing?
Who pays for the marketing?
Who drafts the letters of intent or leases? If you have an attorney who drafts them, what role does the broker play?
To what extent, if at all, do they work with architects and contractors on your behalf?
Does the agent/broker personally show the listing or do they use a lockbox?
Some brokers do not show space in person. This is a missed opportunity to hear the prospect's concerns and without a broker present, they are not able to address them or redirect them to another suite in the building that could meet their needs.
3. What amount of time do they have and what kind of team do they have in place for representing you?
Do they have the time to devote to your listing or do they put up a sign and wait for calls?
Do they have resources to create marketing materials that best highlight your property?
Do they have a backup representative for when they are on vacation or ill?
Finding the right representation for your property is the key to success for maximizing revenue. At Ensemble, we evaluate your asset as though it was our own – that's exactly what you want in a broker. With 30+ years of experience as an owner, developer, property manager, buyer, seller and tenant, our expertise offers a much broader view of real estate—giving you the best, most appropriate solutions for your specific needs. Ready for a firm that goes deeper?
Go beyond the brokerage with Ensemble.