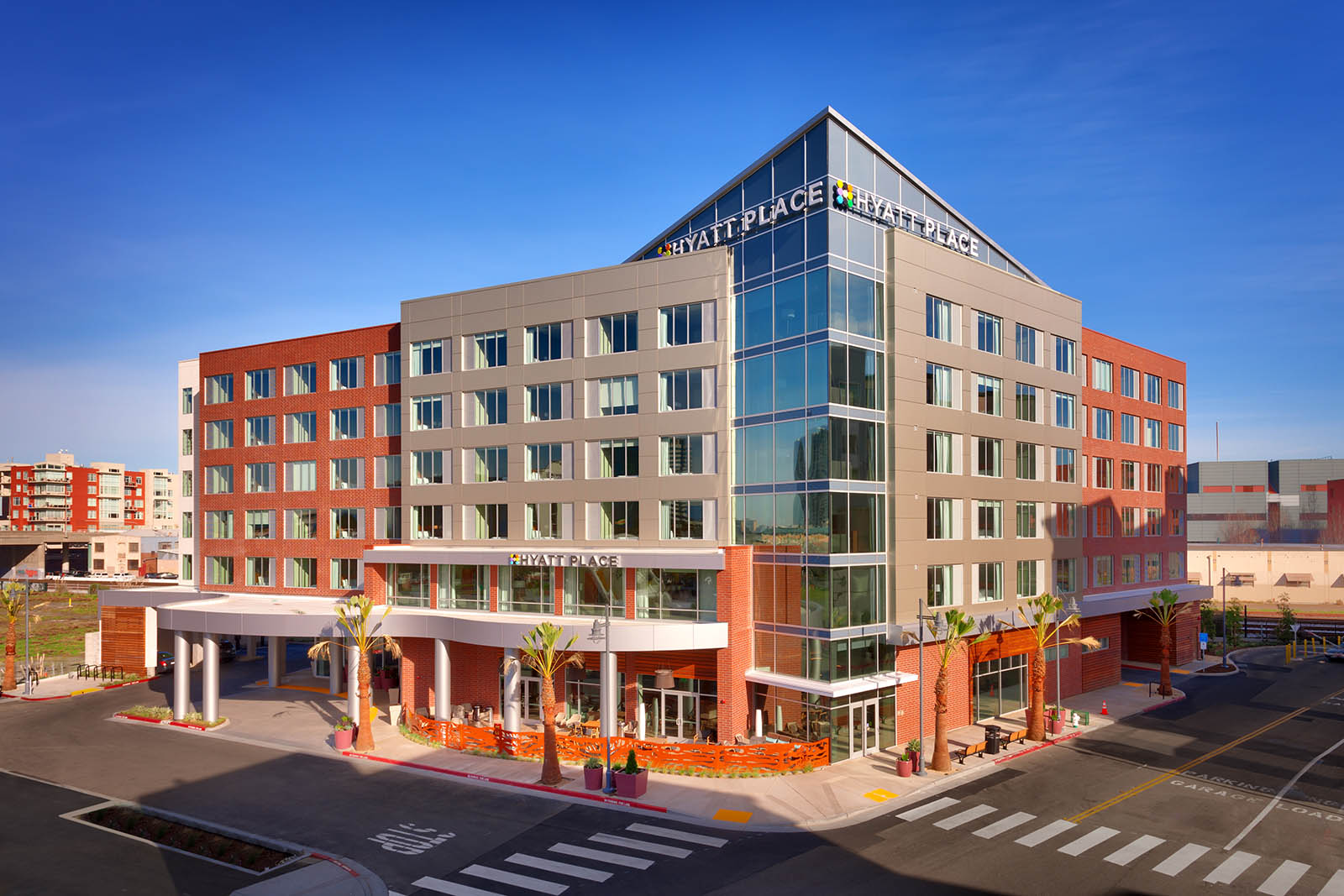 Ensemble Celebrates Grand Opening of New Hyatt Place Emeryville/San Francisco
PRESS RELEASE
03.16.2017
New Upscale Property is Flagship Hotel in Emeryville's Landmark Bay Street Retail Center  
Emeryville, California – March 16th, 2017 – Ensemble Real Estate Investments today will officially introduce its newly opened Hyatt Place Emeryville/San Francisco hotel with a grand opening ceremony for local civic leaders, investors and top representatives from San Francisco, Oakland and Emeryville's burgeoning local business community. Emeryville Vice Mayor John Bauters will lead the ceremonial ribbon cutting to commemorate the event.
Ensemble led the development of the Hyatt Place Emeryville/San Francisco, a 175-room, upscale hotel for business and leisure travelers that boasts stunning views of San Francisco's world-renowned bridges and cityscape, Emeryville's downtown shopping district, and the Oakland hills. Emeryville and adjoining East Bay communities are home to a wide array of leading local innovators and global brands, including Peet's Coffee, Clif Bar, Novartis, Pixar Animation Studios, Bayer Healthcare, Leapfrog and many others.
The new Hyatt property has been a key part of Emeryville's ongoing downtown expansion and restoration initiative and serves as the flagship hotel in Bay Street Emeryville, a three-city-block-long development of one of the most popular urban shopping destinations in the Bay Area. The retail mega-center features 65 stores, 10 restaurants, a movie theater and 400 residential units. The destination uses architecture, lighting, landscape and environmental graphics to create an eclectic, energetic atmosphere with compelling streetscapes, plazas and green space.
"We are thrilled to experience such a strong and warm reception after opening our doors just a few months ago," said Rich Higdon, general manager of Hyatt Place Emeryville. "Emeryville is a vibrant, growing, close-knit community, and our contemporary, fresh atmosphere not only complements other local establishments, but appeals to today's business and leisure travelers who want that unique California chic vibe and experience. The response to Hyatt Place Emeryville has already exceeded our expectations across the board, and we're honored to serve as an anchor in the heart of the city's thriving Bay Street retail center – as well as an integral part of the overall community for neighboring UC Berkeley, Oakland and San Francisco."
Distinction a Goal for Hyatt Place Emeryville/San Francisco
Leveraging its landmark location, the Ensemble team created a highly distinctive design with exclusive amenities to deliver an extraordinary  property for Emeryville. The hotel's architects went beyond the typical Hyatt Place high standards by including dramatic oversized windows to showcase the breathtaking views of San Francisco Bay.
Additionally, to complement the already unique culture of the local community, Ensemble invited gifted local artists to design pieces for the hotel's public areas. The property features the work of two well-known local artists who collaborated with Ensemble and Hyatt to create personalized works unique to Emeryville, paying homage to the popular local cyclist community, biotech industry and railroad legacy.
Sculptor Clint Imboden sources recycled materials from flea markets to antique stores to create art from the artifacts of daily living. Eric Powell, a gifted metalsmith, is a traditional artist and fabricator, using primarily steel and sometimes incorporating found objects. The featured artists are on display in the exterior seating area and the lobby ceilings of the hotel.
"We're pleased to partner with the local business community and the leadership of Emeryville to celebrate the grand opening of this innovative and luxurious property," said Michael Moskowitz, co-founder and managing director of Ensemble Real Estate Solutions & Investments. "Working closely with the City of Emeryville, our design and construction partners, our investors and all the stakeholders involved in this project, I'm proud to say that we have created a unique hotel that is already becoming a major landmark in the surrounding community."
Hyatt Place Emeryville/San Francisco
Hyatt Place Emeryville/San Francisco Bay Area is a different kind of hotel designed around the needs of the modern traveler. Situated on the Bay overlooking San Francisco and just across the San Francisco Bay Bridge, between Oakland and Berkeley, our hotel is within minutes of many popular attractions in the Bay Area. At our modern hotel in Emeryville, California, you'll enjoy comfortable rooms, warm service, and all of the essentials you need to keep your life mobile.
About Hyatt Place
Hyatt Place, a brand of Hyatt Hotels Corporation, combines style, innovation and 24/7 conveniences to create a seamless stay with modern comforts. There are more than 260 Hyatt Place locations in the United States, Armenia, Brazil, Chile, China, Costa Rica, Honduras, India, Mexico, Morocco, Nicaragua, Panama, Puerto Rico, Thailand, The Netherlands, United Arab Emirates, and United Kingdom. Join the conversation on Facebook and Instagram, and tag photos with #HyattPlace and #WhySettle.
About Ensemble Real Estate Investments
Ensemble has a long-standing history of maximizing investment returns through the development, renovation, and repositioning of hotel assets, while adding value to their respective communities. Ensemble specializes in assembling customized teams to realize its vision for each specific market. With its combined operational expertise, development acumen, and asset management capabilities, Ensemble has fostered strategic and fruitful partnerships with boutique hotel operators as well as with global brands including Hilton, Marriott and Hyatt.
---
Media Contacts:
Patrick Corman
Corman Communications, Inc.
+1-650-326-9648
+1-650-465-5973 (mobile)
patrick@cormancom.com
Nathan Mercer
Director of Marketing
Ensemble Real Estate Investments
+1-602-385-2856
nmercer@ensemble.net